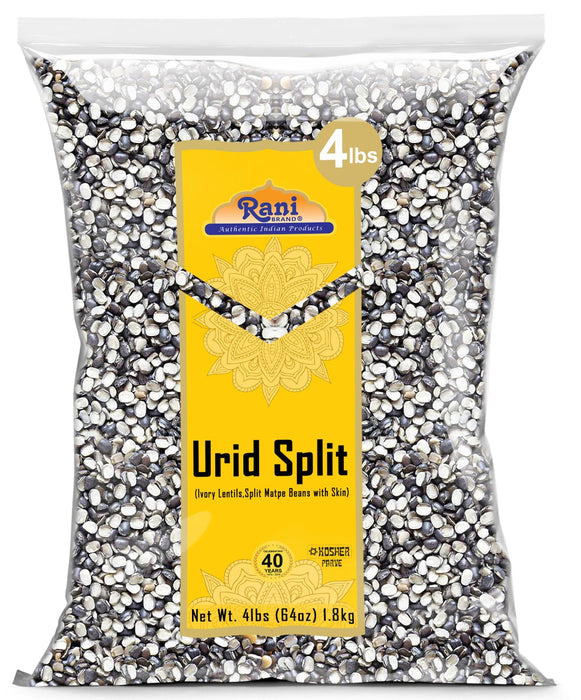 Rani Urid/Urad Dal (Split Matpe Beans with Skin) Indian Lentils 64oz (4lbs) 1.81kg ~ All Natural | Gluten Friendly | NON-GMO | Kosher | Vegan | Indian Origin
Save

Liquid error (snippets/product-badge line 32): Computation results in '-Infinity'

%
Product Type: Split
Packaging: Plastic Bag
Net Wt. 64oz (4lbs) 1.81kg
Product of India

Ingredients: Split Matpe Beans with Skin
You'll LOVE our Urid/Urad Dal Chilka (Split Matpe Beans with Skin) by Rani Brand--Here's Why:

🥘️Now KOSHER! 100% Natural, No preservatives or "fillers" & Great Health Benefits.

🥘️Great source of natural protein, ideal for vegetarians & vegans.

🥘️Rani is a USA based company selling spices for over 40 years, buy with confidence!

🥘️Net Wt. 64oz (4lbs) 1.81kg, Product of India, Alternate Names: Split Matpe Beans With Skin
Premium Quality Matpe Beans
Many varieties of Lentils are used throughout India. From simple soups to elaborate dishes, lentils hold a prominent place in every Indian kitchen. Rani offers a full range of traditional lentils with easy to follow recipes printed on most packages.
Culinary Uses of Urid Dal with Skin:
Used to make Dal (black gram soup)

Used extensively in various culinary preparations such as dosa, papad and vada
You'll LOVE our Urad Split (Split Matpe Beans With Skin) by Rani Brand--Here's Why:
Matpe Beans are the black seeds of the leguminous plant called Vigna mungo. and mainly grown in India, and to some extent throughout tropical Asia.
This lentil is available in four varieties—whole with skin, whole without skin, split with skin and split without skin. Split urad dal retains the skin and also has a strong flavour. Skinned and split urad dal is creamy white and somewhat bland.
100% Natural, No preservatives or "fillers" & Great Health Benefits

Great source of natural protein, ideal for vegetarians & vegans.

Gluten Friendly PREMIUM Gourmet Food Grade Beans.

Common Names: Black gram, Urad dal, urd bean, urad bean, minapa pappu, black matpe bean, mungo bean or Haricot urd