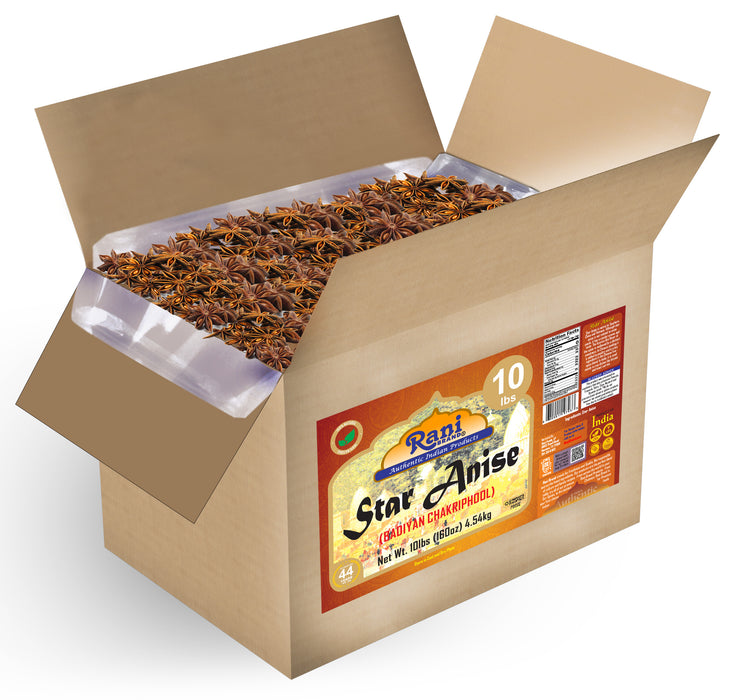 Rani Star Anise Seeds, Whole Pods (Badian Khatai) Spice 160oz (10lbs) 4.54kg Bulk Box ~ All Natural | Gluten Friendly | NON-GMO | Vegan | Indian Origin
Save

Liquid error (snippets/product-badge line 32): Computation results in '-Infinity'

%
Product Type: Whole Pods
Packaging: Bulk Box
Net Wt. 160oz (10lbs) 4.54kg
Product of India

Ingredients: Raw Whole Star Anise
You'll LOVE our Star Anise (Badian Khatai) by Rani Brand--Here's Why:

⭐100% Natural, No preservatives or "fillers" ... NON-GMO

⭐Star Anise in barbecued or roasted chicken, poached fish or shellfish, light soups based on clear broth, rice pudding, steamed cabbage and braised leeks.

⭐Rani is a USA based company selling spices for over 40 years, buy with confidence!

⭐Net Wt.

60oz (10lbs) 4.54kg

, Authentic Indian Product, Product of India Alternative Name (Indian) ❤️Badian Khatai
Difference between Anise Seeds and Star Anise:
The main difference between aniseed and star anise is that aniseed is a small brown-colored seed while star anise is a seed pod having a star shape.
Although the names aniseed and star anise are similar, these names refer to two different types of spices obtained from plants of different families. However, both aniseed and star anise have a pungent licorice flavor, owing to the presence of anethole, an essential oil similar to the licorice flavor.
Culinary Uses of Star Anise:
It is most often used in Asian cooking and is the main ingredient in Chinese "five-spice" powder

Both can be used interchangeably when ground.

Keep in mind that Star Anise has a much stronger flavor when compared to anise seed. When replacing Star Anise with Aniseed, use twice the amount of Aniseed.

Star anise traditionally is used in savory recipes, particularly with meats.

It is often added whole to soups, stews and braising broths, to which it adds a sweet-licorice-peppery flavor.
You'll LOVE our Star Anise by Rani Brand--Here's Why:
Badian Khatai (Star Anise)
Star Anise is native to Southern China and Vietnam. Although not related to anise seeds, it has a similar aroma and taste. The licorice like flavor of the spice is mellowed by a distinct sweetness. In Chinese cooking it is added to poultry and is a key ingredient in the Chinese five-spice blend. In India, it is used mainly in rice dishes like biryani and meat curries. Star anise is either used as a whole or in grounded form.
100% Natural, Vegan, Gluten Friendly, Non-GMO, No Preservatives

Rani is a USA based company selling spices for over 40 years.

Pure! NO Salt, NO MSG, NO FILLERS in any Rani Brand Spices (fillers are commonly used in spices to make them free flowing or lessen the costs of production) usually sodium or like product.

Authentic Product of India

Used both as a spice & ayurvedic properties