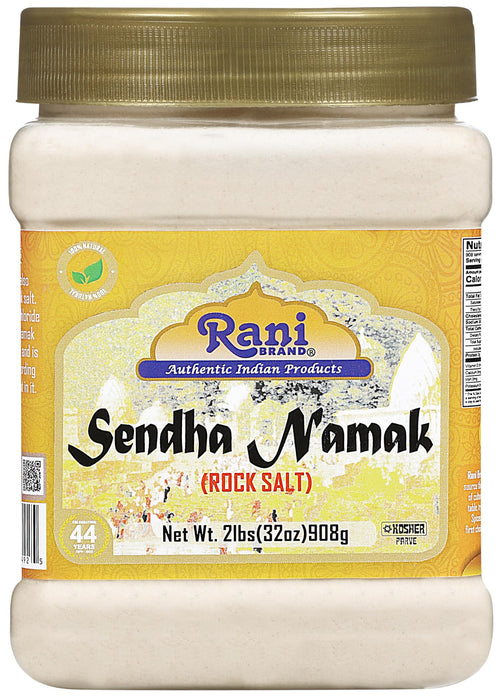 Rani Sendha Namak (Rock Salt) 32oz (2lbs) 908g PET Jar ~ All Natural | Vegan | Gluten Friendly | NON-GMO | Kosher | Indian Origin
Product Type: Powder
Packaging: PET Jar
Net Wt. 2oz (2lbs) 908g
Product of India

Ingredients: Rock Salt
You'll LOVE our Sendha Namak by Rani Brand--Here's Why:

️️Special Note: Our spices/salts do not have anti-caking or anti clumping agents or other harmful additives, hence with a clump-prone product like black salt, natural clumping will occur. This does not indicate that the product is old or bad, just all natural!

️️Rock Salt adds a great flavor to chaats, chutneys, raitas and many other savoury Indian snacks and vegetable dishes.

️️Packed in a no barrier Plastic Jar, let us tell you how important that is when using Indian Spices! Rani is a USA based company selling spices for over 40 years, buy with confidence!
Sendha namak, also known as "saindhava lavana" or simply "rock salt," is a type of salt that is commonly used in India and some other Asian countries. It is a natural, unprocessed salt that is harvested from salt mines, primarily in the Himalayan region. Sendha namak is often used as a culinary ingredient, especially during religious fasting (vrat) periods in Hinduism when regular table salt (common salt) is avoided.