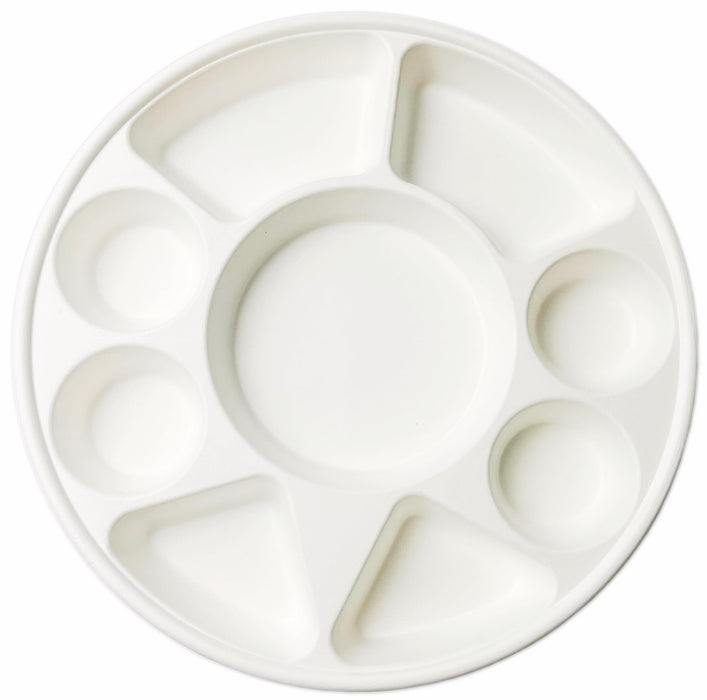 Rani Round Biodegradable Divided Plates, Pack of 200, 9 Compartments ~ Disposable & Eco-Friendly | 12.44" Diameter, 1.38" Thickness | Heavy-Duty and Sturdy Disposable Bagasse Plates | Premium Quality
What's Inside? 200 Packs of White biodegradable plates with a diameter of 31.6cm and 3.5cm in height. A biodegradable divided plate is a type of plate that is designed to be environmentally friendly and can break down naturally over time through biological processes. Unlike traditional plastic or styrofoam plates that take hundreds of years to decompose and can contribute to pollution, biodegradable plates are made from materials that can be broken down naturally. The divided design of these plates usually features separate compartments or sections to keep different types of food separate from each other, similar to a segmented tray. They are often used for serving meals that have multiple food items or for portion control.
🍽️FOOD SEPARATION: Divided plates are versatile and suitable for serving a variety of meals, including main courses, side dishes, snacks, and desserts. They keep different food items separate from one another. This is particularly helpful for picky eaters or individuals who prefer to keep flavors and textures from mixing.

🍽️ENVIRONMENT FRIENDLY: Our biodegradable plates with compartments are usually made from renewable and plant-based materials such sugarcane fibers. This materials is chosen because it fully breaks down in 70 days compared to conventional plastic or polystyrene products.

🍽️HEAVY-DUY AND STURDY: Our Biodegradable plates are designed to be strong and durable with 52.9 gram per plate, making them suitable for a wide range of food types, including hot and cold dishes.

🍽️REDUCED PLATE CLUTTER: Using a divided plate eliminates the need for multiple dishes or bowls to serve various foods, which can help reduce plate clutter and make mealtime more manageable. It can also hold your cups which is very convenient!

🍽️DIMENSION: A pack of 200 white biodegradable plates. Each plate has a diameter of 31.6cm (12.44") and thickness of 3.5cm (1.38").