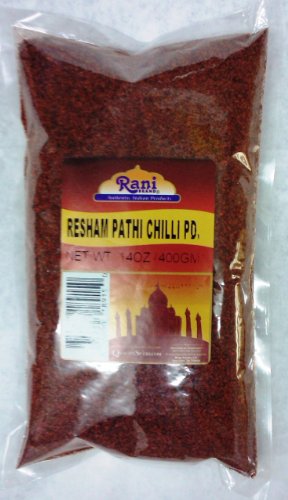 Rani Resham Pathi Chilli Powder 400G
Product Type: Powder
Packaging: Plastic Bag
Net Wt. 400g
Product of India
Ingredients: Chilli Ground, Oil, Salt
You'll LOVE our Resham Pathi Chilli Powder by Rani Brand--Here's Why:

100% Natural, Non-GMO, No Preservatives, Vegan, Gluten Friendly PREMIUM Gourmet Food Grade Spice.

Packed in a no barrier Plastic Bag, let us tell you how important that is when using this, potent of all Indian Spices!

Rani is a USA based company selling spices for over 40 years, buy with confidence!

Net Wt. 7oz (400g), Authentic Indian Product, Product of India Alternate Name (English) Special Chilli Blend
Though originating in Central and South America, chili powder has found its way into being a major component in Indian cuisine. India is one of the largest producers of chilies in the world. Indian Chili powders can rage from being mildly pungent to fiery hot depending on its classification. All chilies are measured in Scoville Units which determine the level of capsaicin in a particular chili. Rani Chill Whole comes from a S4 class chilli pepper and is ideal for cooking spicy meat and lentil dishes. 
RECIPE: Mirchi Aloo Snack
Cook time: 25min.
Prep. Time: 15min.
Serving size: 4
Heat level: Medium
5 tblsp corn oil
2 tsp garlic minced
½ tsp salt
1½ tsp Rani Resham Pathi
6 potatoes peeled and cut into long strips
Heat oil and add garlic, cook for 30 seconds. Add potatoes and cook till translucent. Add Resham Pathi and salt. Mix well. Add water and cook on low heat till tender.
Serve as a snack with chutney.