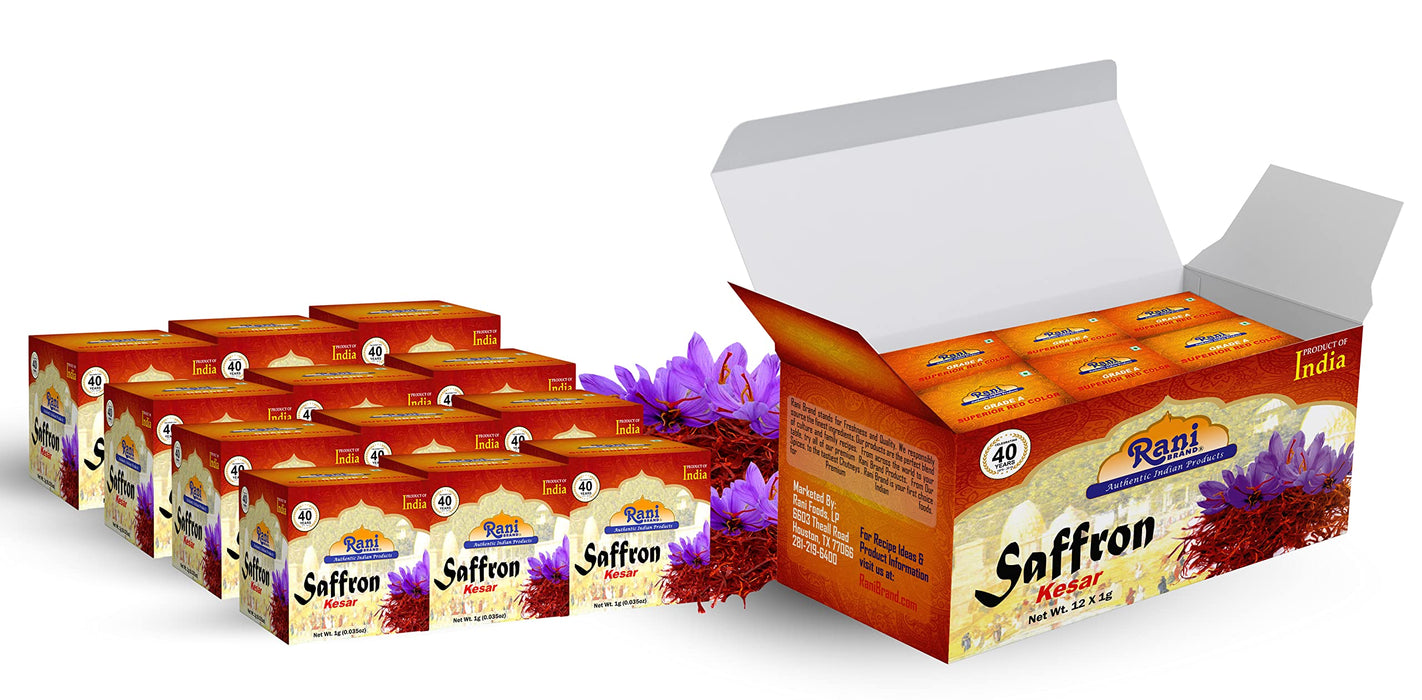 Rani Pure Saffron (Kesar) from India, Fragrant & Full Flavor, Great for Cooking, Tea & Medicinal, Grade A all red threads, 1gm (0.035oz), Pack of 12, PET Jar ~ All Natural, Salt-Free | Vegan | No Colors | Gluten Friendly | NON-GMO
Save

Liquid error (snippets/product-badge line 32): Computation results in '-Infinity'

%
Product Type: Whole
Packaging: Plastic Jar
Net Wt. 1gm (0.035oz), Pack of 12
Product of India
Alternative Name: Kesar
Ingredients: Pure Saffron (GRADE A SUPERIOR RED COLOR)
You'll LOVE our Pure Indian Saffron by Rani Brand--Here's Why:

❤️ Pack of 12! Indian Origin, 100% Natural, Non-GMO, No Preservatives

❤️ Vegan, Gluten Friendly PREMIUM Gourmet Food Grade Spice.

❤️ Packed in a no barrier Plastic Jar, let us tell you how important that is when using Indian Spices!

❤️ Approximately 125 Red Hand Picked Saffron Strands per bottle

❤️ Rani Saffron for all your Cooking needs, such as Rice, Paella, Risotto, Golden Milk, and Teas. Saffron is said to have many benefits in a variety of applications such as consuming as a tea or It can be ground into powder form for use in saffron extract supplements or wholstic purposes.

❤️ Grade A, Pure Red, Hand Grown & Harvested in India
You'll LOVE our Saffron by Rani Brand--Here's Why
Approximately 125 Red Hand Picked Saffron Strands per bottle
Rani Saffron (Crocus sativus) is an herb that is widely cultivated in India, Spain and other parts of the world. The flower of Saffron contains a thread like red-colored stigma which is dried and used commercially as a spice for its powerful aroma and also for its ayurvedic properties. You can take it with honey & milk, it is believed to have numerous health benefits. Saffron is used as a spice in culinary dishes; only a small amount of saffron can turn your dish into a divine delicacy!
Known for its Natural Coloring Capabilities.
Our Saffron contains No Artificial Coloring, No Additives.
Interesting Fact 

Saffron is also used in cosmetic products and can be used as a standalone beauty remedy.

Saffron also prides itself as being the oldest spice used extensively for medicinal purpose.

Outside of food, saffron extracts are used to dye textiles or added to fragrances.

 
Rani Saffron is packed in a no barrier Plastic Jar. 

100% Natural

Non-GMO

Vegan

Gluten Friendly

Non-ETO (Not irradiated)

No Preservatives

Pure! NO Salt, NO MSG, NO FILLERS in any Rani Brand Spices (fillers are commonly used in spices to make them free flowing or lessen the costs of production) usually sodium or like product.

 
Culinary Uses of Saffron:
Saffron is used as a spice to flavor dishes or as natural yellow dye.

In India, it is added to curries or used to infuse syrups for desserts such as Gulab Jamun or Malpua

A thread or two is enough to lend its lasting impact to a whole bowl of food.

Used to color and flavor Masala Milk and enhanced with other spices like cardamom and nuts too.

Soak it in warm water or milk and then rub the strands with your hands to bring out the flavor.

Used to color and flavor both sweet and savory dishes including kheers, halwas, pulaos and biryanis.