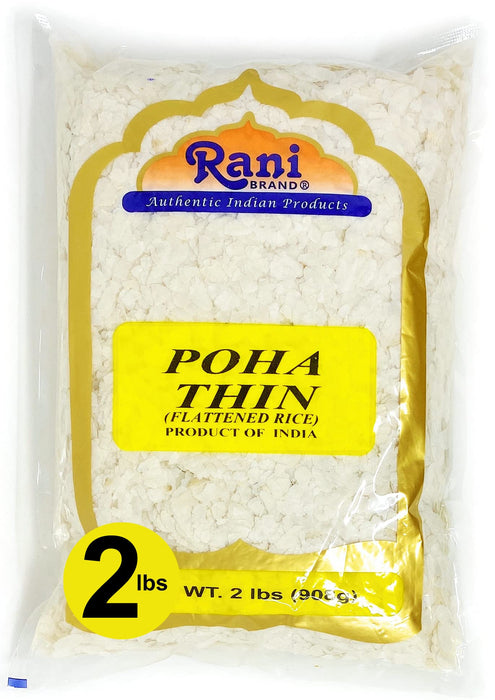 Rani Poha (Powa) Thin Cut (Flattened Rice) 32oz (2lbs) 908g Bulk ~ All Natural, Salt-Free | Vegan | No Colors | Gluten Friendly | Indian Origin
Save

Liquid error (snippets/product-badge line 32): Computation results in '-Infinity'

%
Product Type: Rice
Packaging: Plastic Bag
Net Wt. 32oz (2lbs) 908g
Product of India

Ingredients: Flattened (Flat) Rice Thin Cut
You'll LOVE our Poha Thin by Rani Brand--Here's Why:

🌾100% Natural, No preservatives, Non-GMO, Gluten Friendly PREMIUM Gourmet Food Grade Flour.

🌾Rani is a USA based company selling spices for over 40 years, buy with confidence!

🌾Net Wt. 2lbs (908g), Authentic Indian Product, Alternate Names: Poha Thin, Flattered Rice

🌾Alternate Names: ⭐Pawa, ⭐Powa, ⭐Flattered Rice, ⭐Flaked Rice, ⭐Beaten rice, ⭐avalakki, ⭐bajil, ⭐pauaa/paunva, ⭐poya, ⭐chuda, ⭐atukulu, ⭐aval, ⭐chiura, ⭐sira, ⭐chira, ⭐chiura, ⭐Bhojpuri, ⭐pauwa,⭐baji, ⭐pohe,⭐phovu.
Poha or flattened white rice is made from white rice by pressing it. It is an easy-to-cook, light and nutritious snack that is often had for breakfast or brunch. Poha is a wholesome meal. It is a good source of carbohydrates, rich in fiber, a good source of essential nutrients.
100% Natural (No Preservatives)

Gluten Friendly

NON-GMO

Non-ETO (not irradiated)

Vegan

Packed in a no barrier Poly Bag
You'll LOVE our Poha Thin by Rani Brand--Here's Why:
Thin Rice flakes | Flattered Rice | Pressed Rice
Rani Poha Thin Rice flakes are prepared by flattening peeled rice. This flattened rice or pressed rice provides a light, healthy and delicious Indian snack and breakfast dish. Rice is parboiled before flattening so that poha can be consumed with very little to no cooking. These flakes of rice swell when added to liquid, whether hot or cold, as they absorb water, milk or any other liquids.
Poha Thin is a thin variety of flattened rice and is suitable for making dishes like Pohe, Kanda Pohe Poha (Chivda)

Rani Powa (flattened rice) – is a digestible form of raw rice and is normally used to prepare snacks or light and easy fast food in a variety of Indian cuisine styles.

Rani's Thin rice flakes are very delicate and can be prepared in various ways – salted, with yoghurt, or pressed into schnitzels or tikkis. It is quick to prepare and nutritious.

You can find our Rani Poha in THREE varieties - Thin, Thick, Extra Thick