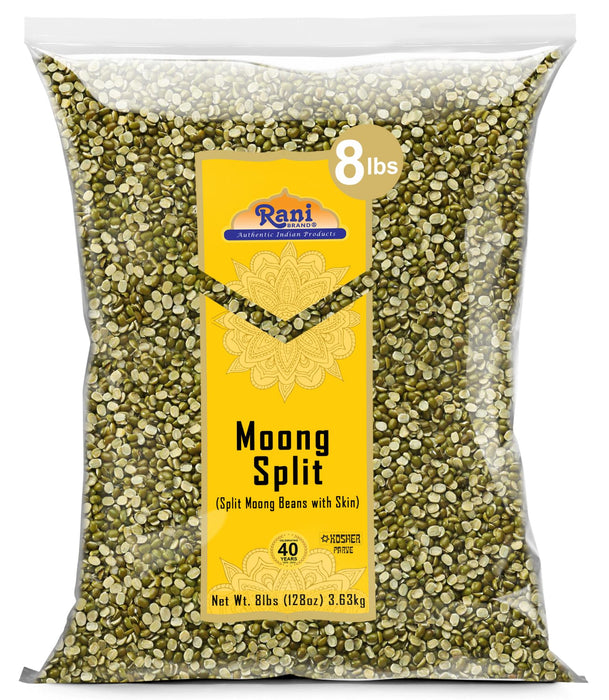 Rani Moong Split (Split Mung Beans with Skin) Lentils Indian 128oz (8lbs) 3.63kg Bulk ~ All Natural | Gluten Friendly | Non-GMO | Kosher | Vegan | Indian Origin
Save

Liquid error (snippets/product-badge line 32): Computation results in '-Infinity'

%
Product Type: Dal
Packaging: Plastic Bag
Net Wt. 128oz (8lbs) 3.63kg
Product of India
Ingredients: Moong Dal (Split Mung Beans WITH skin)
Many varieties of Lentils are used throughout India. From simple soups to elaborate dishes, lentils hold a prominent place in every Indian kitchen. Rani offers a full range of traditional lentils with easy to follow recipes printed on most packages.
You'll LOVE our Moong Whole by Rani Brand--Here's Why:

🌱Now KOSHER! 100% Natural, No preservatives or "fillers" & Great Health Benefits

🌱Great source of natural protein, ideal for vegetarians & vegans.

🌱Rani is a USA based company selling spices for over 40 years, buy with confidence!

🌱Net Wt. 8lbs (128oz), Alternate Names: Green Gram Whole
You'll LOVE our Moong Split by Rani Brand--Here's Why:
Nutritious Mung Beans Split with Skin
Packed with protein and low on carbs, moong dal (also known as green gram) is one of the most recommended vegetarian superfoods. An integral part of the Indian diet, it is extremely light and easy to digest.
Compared to other dals, moong dal is low on carbs, making it a healthier option. One of the more important benefits of moong dal is its protein content. A 100 g serving of the dal can provide you with about 3 g protein.
To Make Dal/Lentils 
Soak the Beans overnight or at least 4-5 hours before you start boiling

In a Pressure Cooker Boil the Rani Moong Beans at least for 35-40 minutes, after boiling them properly use Rani's Spices, Like Rani Garam Masala, Rani Asafetida to make your Dal/ Lentil more delicious. (for more details see the recipe below)
100% Natural (No Preservatives)

Gluten Friendly

NON-GMO

Non-ETO (not irradiated)

100% Vegan

Packed in a no barrier Poly Bag

Moong Split is rich in protein and a staple food in India and main source of protein for vegetarians