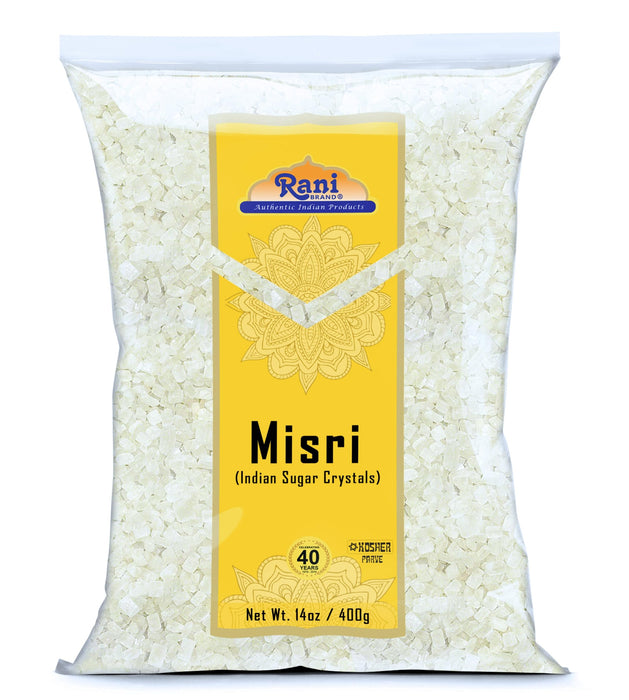 Rani Misri (Indian Sugar Crystals) 14oz (400gm) ~ All Natural | Gluten Friendly | No Colors | Vegan | Kosher | Indian Origin
Save

Liquid error (snippets/product-badge line 32): Computation results in '-Infinity'

%
Product Type: 
Rock Candy Sugar Crystals
Packaging: Poly Bag
Net Wt.: 14oz (400g)
Product of India

Ingredients: Sugar 
You'll LOVE our Misri (Rock Candy Sugar Crystals) Sakar by Rani Brand--Here's Why:

❤️Indian Rock sugar creates a taste of its own, goes great in sweetening teas, coffee & cakes. Mixed with fennel seeds, makes a great natural breath freshener

❤️Now KOSHER! 100% Natural, Non-GMO, No Preservatives, Vegan, Gluten Friendly PREMIUM Gourmet Food Grade Sugar.

❤️Rock sugar, or rock candy, is used by a wide variety of cultures around the world in a variety of applications. Some are just for fun others play a core role in flavoring or sweetening dishes. Rock Sugar is well known for sweetening tea or milk without changing its flavor and is also consumed as a candy. Dissolve it in warm water to make sugar syrup and add it to iced tea, coffee, lemonades etc. Just add one or two cube to hot milk or tea to sweeten the drink.

❤️Net Wt. 14oz (400g), Authentic Product of India, Alternate Names: Misri, Rock Sugar, Mishri, Sakar, Shakkar
USAGE OF ROCK CRYSTAL SUGAR:
Rock crystal sugar is a classic candy that is ideal for wedding receptions, Valentine's Day, or special occasions. They are also perfect for engagement parties, bridal showers, and weddings. Rock sugar is especially common in Asian cuisines and is used to sweeten teas, desserts, and even savory dishes.
It is less sweet than a comparable volume of granulated, white table sugar, making it an ideal, mild sweetener for many drinks and dishes
100% Natural (No Preservatives)

Gluten Friendly!

NON-GMO

Non-ETO (not irradiated)

Vegan
You'll LOVE our Misri by Rani Brand--Here's Why:
Rock Candy Sugar Crystals
Misri is the best sweetener and it tastes better than other sweetening agents like Honey, artificial sweeteners, refined sugar and stevia. It not just sweetens tea, but also enhances the natural taste without allowing any unpleasant or bitter after taste. Misri which is also called as rock candy can be found in many varied cultural traditions, but it originates from India & Mid-East countries, the dessert was often tinted and mildly flavored with sugar candy, saffron and flowers.
Rock sugar, also known as rock candy or sugar candy, is a hard confection made by cooling sugar syrup into large crystals

These absolutely pure sugar crystals are large, available in various forms, and are used as an additive to foods for texture or visual interest.

They can be eaten like that, added to sweeten coffee and teas, which are served after meals or added to any recipe as directed. It has a simple and attractive flavor.

The pleasing product is crafted from natural sources.

Rani is a USA based company selling spices for over 40 years.