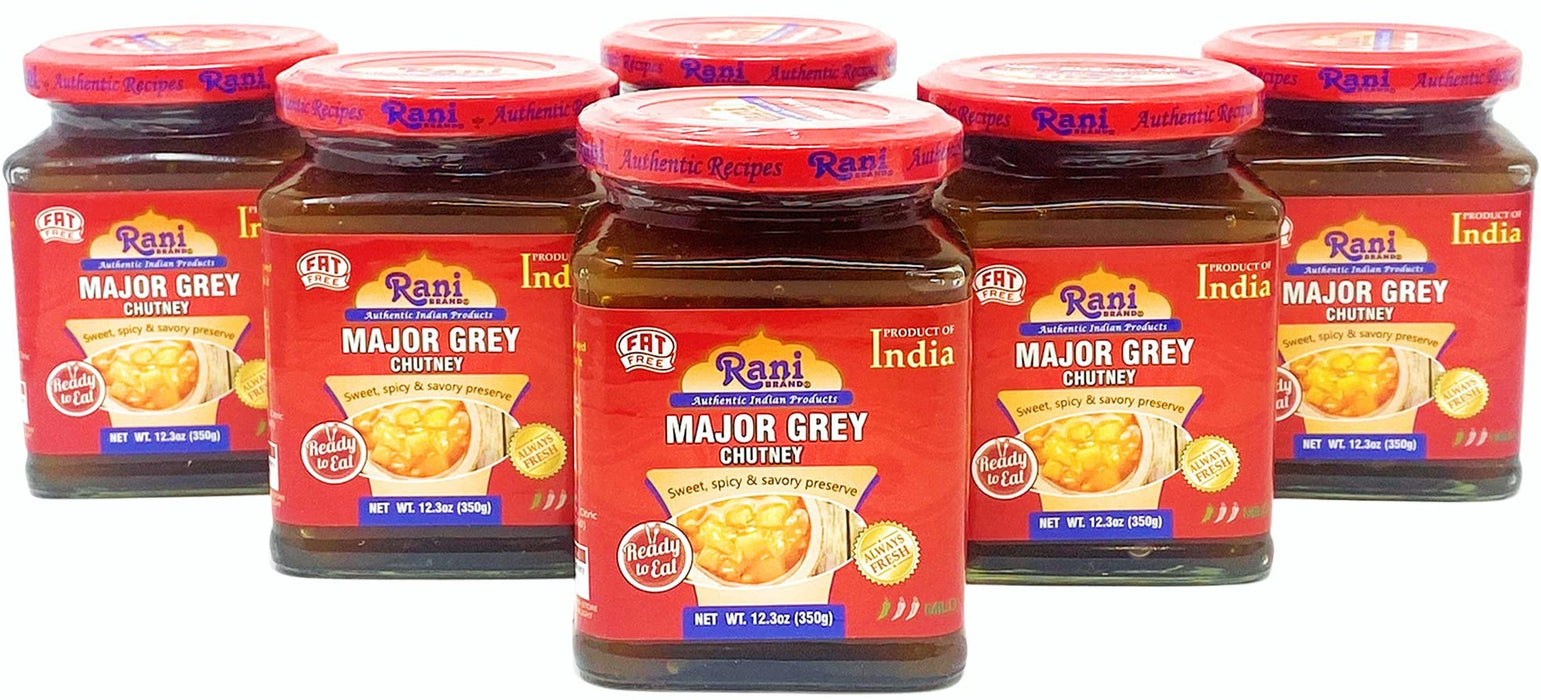 Rani Major Grey Mango Chutney (Indian Preserve) 12.3oz (350g) Glass Jar, Ready to eat, Vegan, Pack of 5+1 FREE ~ Gluten Free, All Natural, NON-GMO
Product Type: Chutney
Packaging: Glass Jar
Net Wt. 12.3oz (350g) x Pack of 5+1 = Total of 74oz (4.63lbs) 2.1kg
Product of India

Ingredients: Sugar, Mango, Red Chilli, Raisins, Spices, Garlic Powder, Ginger Powder, Acetic Acid.
You'll LOVE our Mango Major Grey Chutney by Rani Brand--Here's Why:

🥭NEW! PACK OF 5 + 1 FREE! All Natural, Non-GMO, No Preservatives, Gluten Free PREMIUM Gourmet Food Grade Chutney.

🥭Authentic Family Rani Recipe. Rani is a USA based company selling Indian Foods for over 40 years, buy with confidence!

🥭Great Mild Spicy Taste, Awesome with Wine & Cheese! Packaged in a re-closeable glass jar.

🥭Net Wt. 12.3oz (350g) x Pack of 5+1 = Total of 74oz (4.63lbs) 2.1kg - Authentic Product of India.
WHAT IS CHUTNEY?
Often thought of as a relish or jam chutney is in fact something all of it's own. Yep, it has it's own identity. Traditionally chutney was from south east Asia and India where it is a gluten free condiment.
You can find them to be sweet, spicy or in this case a mixture of the two. Sweetness from the mango, spice from the range of spices added and heat from the chili.
Rani Major Grey Mango Chutney
Spicy Indian Preserve, Ready to eat!
Major Grey chutney is a sweet, tangy, spicy condiment that is commonly served with Indian curries. Chutney is a spicy condiment made with a mixture of vegetables and/or fruits, spices, and some form of sweetener, such as sugar or honey. Grated mangoes cooked in a sugar syrup made with chilly and spices bursting with fresh flavor.
Our mango chutney is a delicious way to enjoy fresh mangoes and perfect to use as a sandwich spread, over that perfect roast, or just on its own over toast.
Packaged in a re-closeable glass jar

100% Natural (No Preservatives)

Non-GMO

Vegan

Gluten Free
FDA Disclaimer: These statements have not been evaluated by the Food and Drug Administration. This product is not intended to diagnose, treat, cure, or prevent any disease