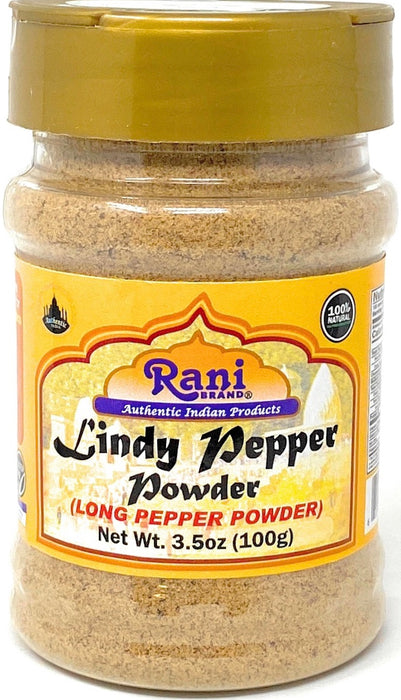 Rani Lindy Pepper Powder (Long Pepper, Piper Longum, Pipli) 3.5oz (100g) PET Jar ~ All Natural | Gluten Friendly | NON-GMO | Vegan | Indian Origin
Save

Liquid error (snippets/product-badge line 32): Computation results in '-Infinity'

%
Product Type: Powder
Packaging: Plastic Bottle
Net Wt. 3.5oz (100g)
Product of India

Ingredients: Lindy Pepper Powder
You'll LOVE our Rani Lindy, Lindi Pepper Powder (Long Pepper, Piper Longum, Pipli) by Rani Brand--Here's Why:

❤️100% Natural, Non-GMO, No Preservatives, Vegan, Gluten Friendly PREMIUM Gourmet Food Grade Spice.

❤️Lindy Pepper is closely related to Black Pepper, and only grown in India.

❤️Packed in a no barrier Plastic Jar, let us tell you how important that is when using this, potent of all Indian Spices!

❤️Net Wt. 3.5oz (100g), Authentic Indian Product, Product of India Alternative Name: (Indian) Pipli
You'll LOVE our Rani Lindy, Lindi Pepper Powder by Rani Brand--Here's Why:
A Little History!...
Also called pippali and pipli, is the tiny fruit that comes from the long, cone-like flower spike grown on a flowering vine of the same name. Long Pepper is a native of India and it is considerably less hot than many ground pepper varieties. At the same time, it is deeply aromatic and energizing. Treat it like the bridge between black pepper and chilies in your spice blends to add considerable complexity and flavorful heat.
100% Natural (No Preservatives), Gluten Friendly, Vegan, NON-GMO, Non-ETO (not irradiated).

Our Lindy Pepper (Long Pepper) is available in both Powder and Whole form and packed in a no barrier PET Jar.

Rani is a USA based company selling spices for over 40 years.

Authentic Product of India
Culinary Uses of Long Pepper: 
Whole, dried long pepper spikes can be used in marinades, stews and roasts. Put them in vegetable pickles (fresh or dried). Use them in soups the same way you might use a bay leaf. You can also steep them in tea with honey.

Put Long Pepper Powder in a shaker and apply it liberally to vegetables, curries, salads, etc. It can be used as an alternative to black pepper in any dish, especially if you need a flavor slightly more welcoming than the typical sting of regular pepper.