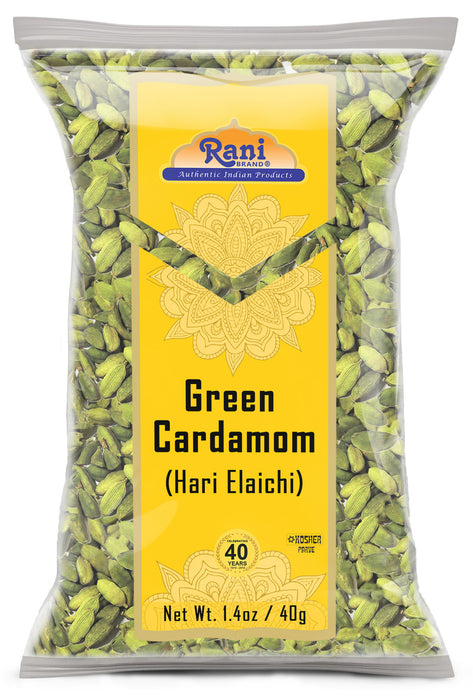 Rani Green Cardamom Pods Spice (Hari Elachi) 1.4oz (40g) ~ All Natural | Vegan | Gluten Friendly | NON-GMO | Kosher | Product of India
Save

Liquid error (snippets/product-badge line 32): Computation results in '-Infinity'

%
Product type : Whole Pods
Net Wt. : 1.4oz (40g)
Ingredients : Green Cardamom Pods
You'll LOVE our Green Cardamom Pods by Rani Brand--Here's Why:

💚Packed in the USA, 100% Natural, Non-GMO, Gluten Friendly, No preservatives or "fillers" & Great Flavor!

💚Packed in a no barrier Plastic Bag, let us tell you how important that is when using high quality Indian Spices!

💚Now Kosher! Rani is a USA based company selling spices for over 40 years, buy with confidence!

💚Net Wt. 1.4oz (40gms), Authentic Indian Product, Alternate Names: Elachi, Hari Elachi (Hindi)
You will love our Green Cardamom Pods by Rani Brand, Here's why:
Botanical Name: Elettaria cardamomum (commonly known as green or true cardamom, is a herbaceous, perennial plant in the ginger family)
Green Cardamom is native to the forest of South India, where it grows wild. Second only to the spice saffron in value, cardamom is one of the worlds most expensive spice. Cardamom can enhance both sweet and savory dishes. It has been important in Indian cuisine for thousands of years, being a useful ingredient in sumptuous curries to adding a camphoric flavor to Indian masala chai. Its also a key ingredient in many ayurvedic medicines and herbal mixes.
100% Natural (No Preservatives)

Gluten Friendly

Non-ETO (Not irradiated)

NON-GMO

100% Vegan

Fresh & full of volatile oil!

Purchased & packed in small batches for freshness & purity!
Not all Green Cardamom are the same... ours is better! 
How do I use Green Cardamom? Our favorite recipe is Cardamom Milk Coffee
In most recipes, just a few pods are required. Its typically used to infuse flavor into the dish its going into rather being consumed whole.
How to Make it:
Step 1 :

 

Simmer cardamom pods and milk in a small saucepan over medium-low heat for about 5 minutes, stirring occasionally.
Step 2:

 

Heat 2/3 cup water almost to boiling. Put ground coffee in a drip cone set on a large mug. Pour water over grounds.
Step 3:

 

Strain milk into coffee. Stir in sugar if you like.
Ingredients Needed:

3/4 cup low-fat milk

3 tablespoons finely ground coffee & Sugar (If desired)

1-2 Rani cardamom pod, crush a bit to release flavor