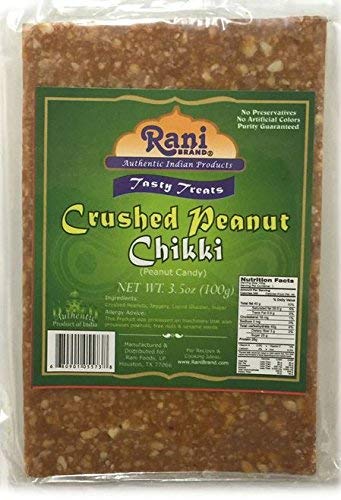 Rani Crushed Peanut Chikki 100g (3.5oz) (2pk)
Chikkis are traditional Indian candies made of a variety of ingredients like peanuts, almonds, pistachio, cashews, etc., along with jaggery. People can also encourage their kids to snack on these healthy candies which provide nutrition and also fill the stomach. My mother always makes a good stock of these and we carry it in our bags/purses to munch on when we feel hungry while traveling. The method of making Peanut chikkis and laddu is the same, the only difference being the shape.
You'll LOVE our Crushed Peanut Chikki Rani Brand--Here's Why:
Great Natural Taste comes from using Jaggery Sugar, an authentic Indian Molasses Sugar, unique wonderful tasty!
Authentic Family Rani Receipe. Rani is a USA based company selling spices for over 30 years, buy with confidence!
No Salt added, Gluten Free, NON-GMO 100% Natural, No preservatives or "fillers" & Great Flavor!