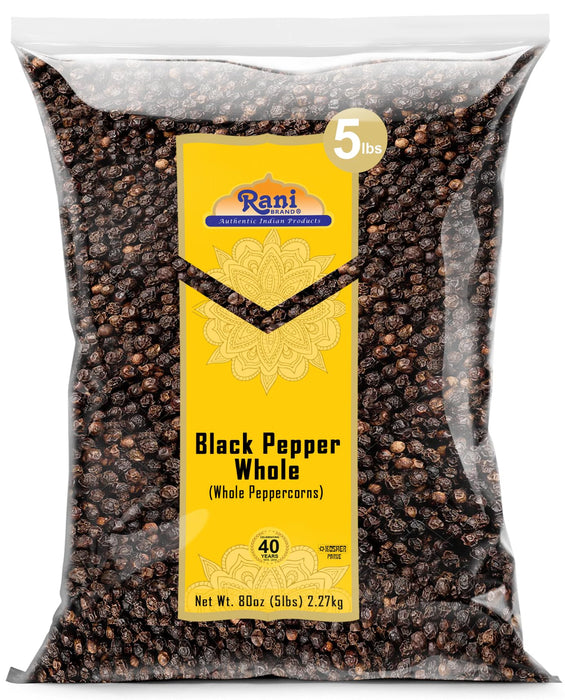 Rani Black Pepper Whole (Peppercorns), Premium Indian MG-1 Grade 80oz (5lbs) 2.27kg Bulk ~ All Natural | Gluten Friendly | Kosher | Non-GMO
Save

Liquid error (snippets/product-badge line 32): Computation results in '-Infinity'

%
Product Type: Whole Seeds
Packaging: Plastic Bags
Net Wt. 80oz (5lbs) 2.27kg 
Product of India
Alternative Name (Indian) Kali Mirch
Ingredients: Black Peppercorns, MG-1 (Indian)
RECIPE: Spiced Fish
Prep-time: 15 minutes
Cooking time: 25 minutes
Serving size: 4
Heat level: medium
4 Monkfish fillets
½ tsp. Rani Turmeric
2 tsp. Rani Clove Ground
2 tsp. Rani Allspice Ground
1 tsp. Rani Mace Ground
½ tsp. Rani Black pepper Ground
¼ cup olive oil
2 medium onions thinly sliced
4 garlic cloves diced
2 tsp. all purpose flour
salt to taste
Season the fish fillets with salt. Combine turmeric, clove, allspice, mace, and black pepper. Set aside. In a fry pan, heat oil and sauté onions and garlic until golden brown. Add spices and sauté for a minute. Stir in flour. Place fish in pan and cook until both sides are brown. Slowly stir in ½ cup of water. Cook until sauce thickens and fish is cooked. Add salt to taste.
You'll LOVE our Black Pepper Whole (Premium MG-1 Grade) by Rani Brand--Here's Why:

❤️100% Natural, Non-GMO, No Preservatives, Vegan, Gluten Friendly, PREMIUM Gourmet Food Grade Spice.

❤️Packed in a no barrier Plastic Bag, let us tell you how important that is when using this, potent of all Indian Spices!

❤️Now KOSHER! Rani is a USA based company selling spices for over 40 years, buy with confidence!

❤️5 Pound Bulk Bag! (2.2kg) 80oz, Authentic Indian Product, Product of India Alternative Name (Indian) Kali Mirch
100% Natural (No Preservatives)

Gluten Friendly

NON-GMO

Non-ETO (not irradiated)

100% Vegan
Use black pepper as an ingredient in recipes to
add flavor and spice to meats, fish, vegetables, salad dressings
, soups, stir-fries, pasta, and more.
You'll LOVE our Black Pepper Whole by Rani Brand--Here's Why:
Black Pepper is the dried, mature but unripe berry (fruit) of Piper nigrum, a branching vine or climbing, perennial shrub. Black pepper is the most important spice of India and world due to its day-to-day use. There is a distinct and undeniable earthiness to the flavor of black pepper, one that is woody, piney, and sharp all at the same time. Black pepper is the most pungent and flavorful of all types of peppers and it is available as whole or cracked peppercorns or ground into powder.
Black pepper is more aromatic than the other varieties of pepper.

Black pepper (Piper nigrum) is known as the "King of Spices" because of its strong aroma and is widely used in all major cuisines around the world.

Rani is a USA based company selling spices for over 40 years.

Authentic Product of India