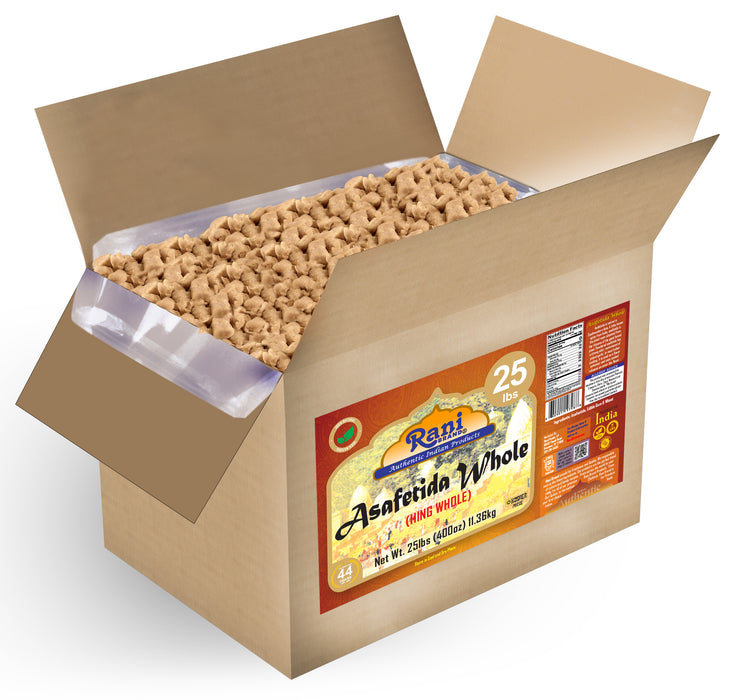 Rani Asafetida (Hing) Whole 400oz (25lbs) 11.36kg Bulk Box ~ All Natural | Salt Free | Vegan | NON-GMO | Kosher | Asafoetida Indian Spice | Best for Onion Garlic Substitute
Product Type: Whole
Packaging: Carton Box
Net Wt. 400oz (25lbs) 11.36kg
Product of India

Ingredients: Asafoetida, Edible Gum & Wheat as a binding agent
Have not Cooked with it before?
RECIPE: Lentil Curry
Cook time: 45 minutes
Prep time: 30 minutes
Serving size: 4
Heat level: Mild
2 cups Rani Toor dal
1 tsp. Rani Turmeric ground
1 tsp. Rani Cumin seeds
1 tsp. Rani Asafetida ground
Salt to taste

Method: Soak Toor dal for 30 min. and drain. Cook the toor dal in 3 cups of hot water until soft. Add the turmeric, cumin seed, asafetida, and salt. Simmer for 5 min.
You'll LOVE our Asafetida Whole by Rani Brand--Here's Why: 100% Natural, Gluten Friendly, No preservatives & Great Health Benefits…

🧄Strong Aroma! Asafetida has the strongest aroma of any spice...when cooked the aromas transforms, leaving behind a rich and pleasurable taste of onion and garlic. Often used as a Garlic/Onion substitute, also in dal (soups) to offset/help digest beans & lentil.

🧄Now KOSHER! Packed in a no barrier Bulk Carton Box, let us tell you how important that is when using this, potent of all Indian Spices!

🧄Rani is a USA based company selling spices for over 40 years, buy with confidence!

🧄Net Wt. 400oz (25lbs) 11.36kg, Authentic Indian Product, Alternate Names: Asafoetida, Hing, Heeng (Hindi)