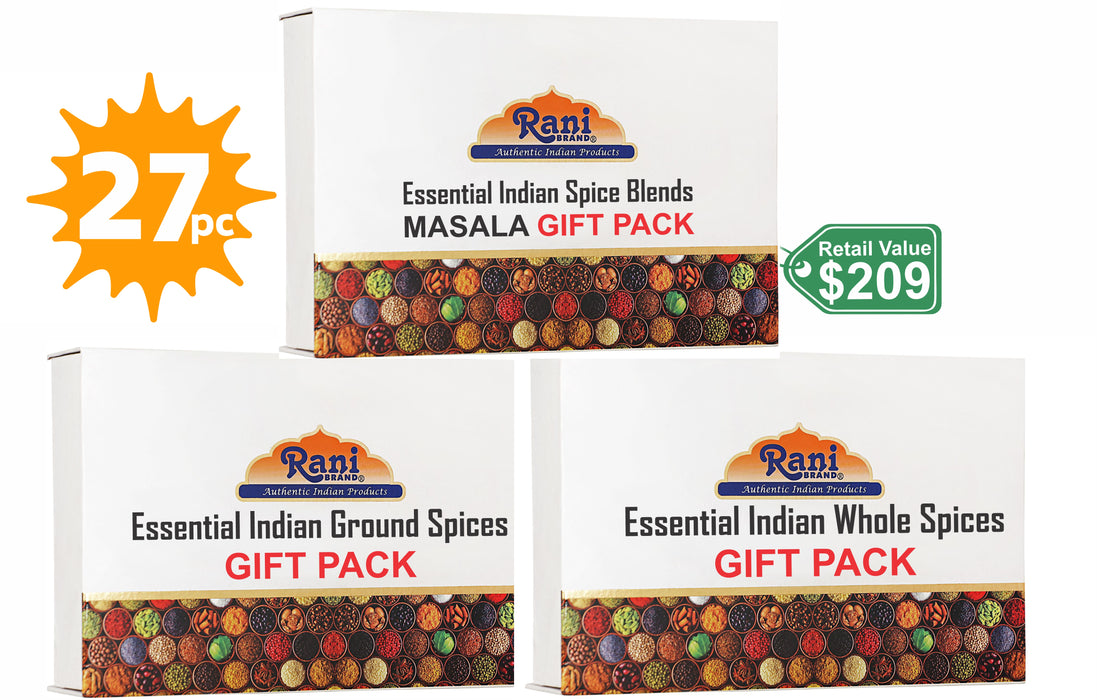 Rani 3-in1 Essential Indian Spices Gift Box Set (Masala, Ground & Whole) 27 Bottles in Total, Average Weight per Bottle 3oz (85g), Indian Cooking, Makes a Great Gift!
Rani Brand Authentic Indian spices are famous for the purity and quality. Just look at our 100,000+ positive reviews all over the world. These make a great gift for anyone venturing into Indian Cuisine & Foodies!
You'll LOVE our Rani Essential Spice Gift Box by Rani Brand®--Here's Why: 
They are a Great Value! If bought separately, these would cost well over $209
These are our worldwide top selling spice blends in their original size PET Jar Spices with shaker, makes a great gift!

Gift Box Shrink Wrapped, made of a high quality material, re-closable, resealable & reusable. Magnets keep the package locked in place.

Rani is a USA based company selling spices for over 40 years, buy with confidence!
PET Jar Spices with shaker tops included are:
Rani Turmeric Ground 3oz (85g)
Rani Cardamom Ground 3oz (85g)
Rani Coriander Powder 2.5oz (70g)
Rani Cumin Ground 3oz (85g)
Rani Kashmiri Chilli Ground 3oz (85g)
Rani Asafetida Ground 3.75oz (106g)
Rani Fenugreek Ground 3oz (85g)
Rani Amchur Powder 3oz(85g)
Rani Fennel Candy 5oz (141g)
Garam Masala 3oz (85g)
Curry Powder Mild 3oz (85g)
Tikka Masala 3oz (85g)
Chicken Curry Masala 3oz (85g)
Chana Masala 3.5oz (100g)
Tandoori Masala 3oz (85g)
Chat Masala 4oz (127g)
Tea Masala 3oz (85g)
Fennel Candy 5oz (141g)

Rani Cumin Seeds 3oz (85g)

Rani Coriander Seeds 1.5oz (42g)

Rani Kasoori Methi 1oz (28g)
Rani Fennel Seeds 3oz (85g)
Rani Bay Leaves 0.4oz (12g)
Rani Mustard Seeds 3.5oz (100g)
Rani Green Cardamom 2oz (56g)
Rani Fenugreek Seeds 5oz (142g)
Rani Fennel Candy 5oz (141g)