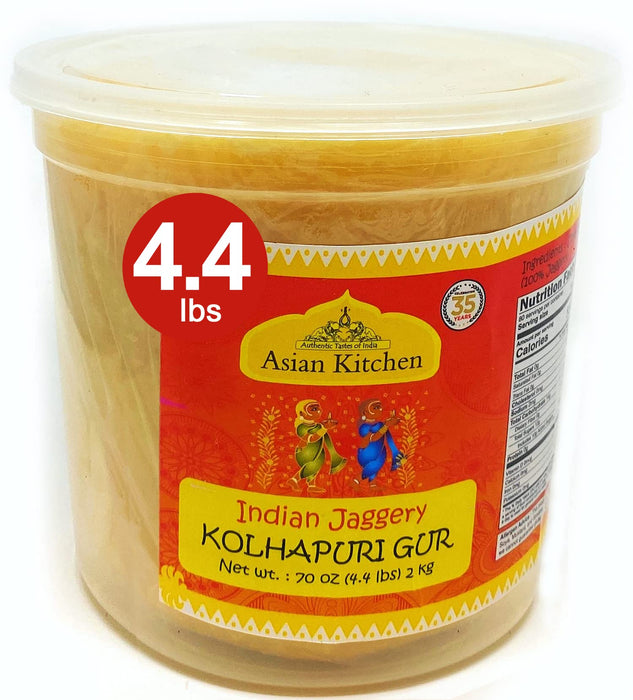 Asian Kitchen Kolhapuri Gur (Jaggery) 70oz (4.4lbs) 2kg PET Jar ~ Unrefined Cane Sugar | No Color added | Gluten Friendly | Vegan | NON-GMO
Save

Liquid error (snippets/product-badge line 32): Computation results in '-Infinity'

%
Product Type: Jaggery
Packaging: Plastic Jar
Net Wt. 70oz (4.4lbs) 2kg
Product of India
Ingredients: Natural Unrefined Sugar
You'll LOVE our Kolhapuri Gur (Jaggery) by Asian Kitchen--Here's Why:

❤️No Salt or Sugar added, Gluten Friendly, NON-GMO 100% Natural, No preservatives or "fillers" & Great Flavor!

❤️Rani is a USA based company selling Indian Foods for over 40 years, buy with confidence!

❤️4 sizes to choose from.

❤️Net Wt. 70oz (4.4lbs) 2kg, Product of India
Asian Kitchen Kolhapuri Gur (Jaggery)
Unrefined cane sugar, no color added.
Kolhapuri Jaggery Gur is a natural unrefined cane sugar, renowned for its unique taste & texture. Jaggery is made from concentrating sugar cane juice, where the sugar cane juice is cooked slowly in large iron pans till it thickens. Then its allowed to cool and solidify. It is regularly consumed as a sweetener and is a part of many sweet delicacies such as gur ka chawal (rice with jaggery), which is a traditional Rajasthani dish.
Jaggery can be added to lentil soups to add sweetness to balance the spicy, salty and sour components, particularly in Gujarati cuisine.

Great Flavor! Available in 4 Sizes (500g, 1kg, 2kg, 5kg)

Authentic Indian Product (Product of India)

Rani is a USA based company selling spices for over 40 years.

Packed in a no barrier PET Jar

 
A pinch of jaggery is sometimes added to spicy preparations like sambhar, rasam and other gravies, to enhance the other flavours.
100% Natural (No Preservatives)

Gluten Friendly

Non-GMO

Non-ETO (not irradiated)

No salt or fillers

100% Vegan

Jaggery should be kept in airtight containers away from moisture and heat.
Jaggery Rice(Indian Dessert)
Ingredients Needed:
· 400 gm Rani Basmati rice
· 250 gm Rani jaggery
· 4 cloves
· 4 cup water
· 3.5oz Rani Ghee
· 1 1/2 teaspoon green cardamom
· 2 tablespoon flaked almonds
Step1
To prepare this delicious dessert, first wash the rice 4-5 times and soak for about 15-20 minutes. Then put a deep-bottomed pan on medium flame and add water in it. Bring it to a boil and add soaked rice in it along with cloves. Let the rice cook until they are tender and firm. When the rice are cooked, drain the water properly.
Step 2 Melt ghee and add jaggery
Now, put a saucepan on medium flame and melt ghee in it. When the ghee is hot enough, add the jaggery powder. If you do not have jaggery powder available, you can simply cut the jaggery in pieces and add it in the pan. This will take a little longer time, but will give you the same taste.
Step 3 Mix all the ingredients and cook
Step 4 Relish!
Garnish with almonds and nuts. Serve hot.