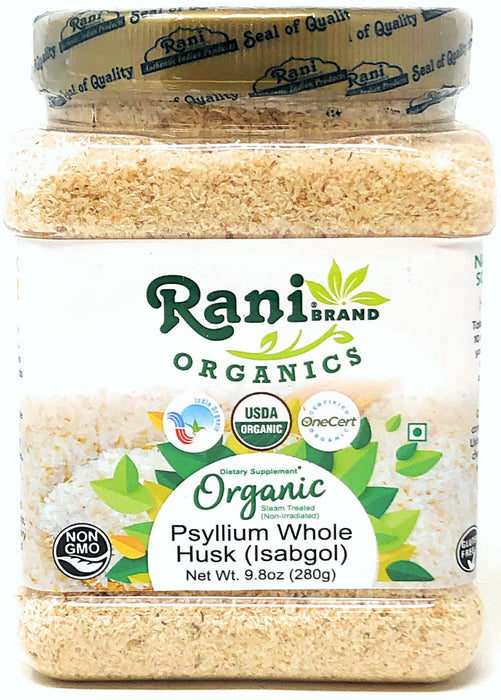 Rani Organic Psyllium Whole Husk Powder (Isabgol) Dietary Fiber Supplement USDA Organic 9.8oz (280g) All Natural | Vegan | Gluten Friendly | Non-GMO
How to stay Regular? A dose of psyllium husk on a regular basis. Our finely ground powder makes for easy mixing and naturally adds bulk to liquids to keep things moving. Each serving also provides a combination of soluble and insoluble fiber for optimal digestive health*. Before using harsher chemical based remedies, give your tummy Rani Brand natural psyllium husk.

What is it? Psyllium is the seed husk of the herb Plantago Ovato, it's a natural bulk forming dietary fiber. Organically Grown and sustainably harvested.

How to use it?

Take 1 teaspoon 1-3 times daily with 10 ounces of liquid (Water, Juice or your beverage of choice) Stir and drink immediately. Drinking additional water afterwards is advisable.

Caution: The product should be consumed with a full glass of liquid. Using less than suggested may cause choking. Do not use this product if you have difficulty swallowing.
You'll LOVE our ORGANIC Psyllium Whole Husk by Rani Organics--Here's Why:
100% CERTIFIED USDA ORGANIC - USDA-certified organic husks cultivated on sustainable, organic farmland. Vegan, dairy free, GMO free, gluten free, no sugar, and no artificial sweeteners.
Our gentle formula soothes elimination, promotes regularity without discomfort or flatulence, gently cleanses the colon, and provides gastrointestinal detox
When mixed with liquid, our psyllium husk powder thickens into a gel, helping with the passage of food to eliminate waste.* Each teaspoon provides 4g of dietary fiber, representing 14% of your recommended daily fiber intake!
Supports a Healthy Stomach, Digestive System & Cardiovascular Benefits. 100% Natural, Packed in a no barrier Plastic Jar.
Down it with water – lots of water
Since the fibre in psyllium husk absorbs loads of water, make sure to drink enough water when taking psyllium husk so your digestive tract is optimally hydrated.
100% Organic and Natural

Non-GMO

No Preservatives

Vegan

Gluten Friendly

Non-ETO (Not irradiated)
Rani Organic Psyllium Whole Husk Powder
You'll LOVE our ORGANIC Psyllium Whole Husk by Rani Organics--Here's Why:
Psyllium husk is a soluble fiber that is derived from the seeds of a shrub-like plant called Plantago ovato (the husk is simply the outer casing of the seed). It can be added to any fruit smoothie, such as mixed berry smoothies, banana smoothies or mango smoothies. Sprinkle one to two teaspoons of psyllium on foods such as soup, yogurt or cereal.You can also make a psyllium replacer to use in the place of eggs in baked goods,
Psyllium husk is a healthy source of soluble fiber with a wide range of uses.

It functions as a thickener, binding agent, and texture enhancer, all in one.

Packed in a Plastic Jar

Authentic Product of India