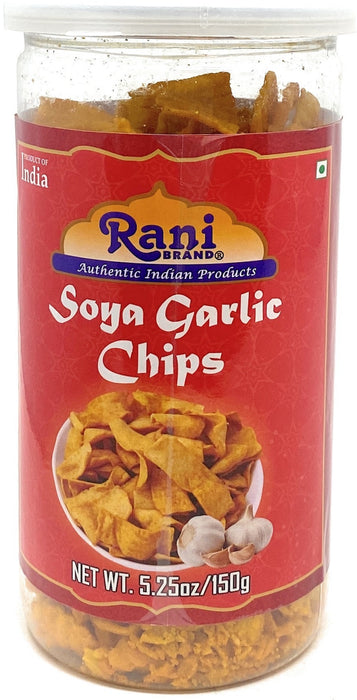 Rani Soya Chips Garlic 5.25oz (150g) Vacuum Sealed, Easy Open Top, Resealable Container ~ Indian Tasty Treats | Vegan | NON-GMO | Indian Origin & Taste
Product Type: Chips and Crisps
Packaging: Plastic Jar
Net Wt. 5.25oz (150g)
Product of India
Ingredients: Soyabean flour, Urad Dal, Salt, Garlic Powder, Edible Oil (Palm Oil), Spices and Condiments.
Soya Chips are a crunchy mild flavoured snack with natural flavor and texture, full of fiber and protein. It is a good alternative for potato chips and comes with low-calorie content. Maintain your diet with Tasty Flavours!
You'll LOVE our Soya Chips Garlic by Rani Brand--Here's Why:

❤️Soya Chips is a delightful snack with natural flavor and texture, full of fiber and protein. 100% Natural, No preservatives or "fillers" ... NON-GMO.

❤️Packed in a vacuum sealed, resealable container with easy open top, let us tell you how convenient that is with these snacks!

❤️Authentic Family Rani Recipe. Rani is a USA based company selling spices for over 40 years, buy with confidence!

❤️Net Wt. 5.25oz (150g), Authentic Indian Product (Product of India)